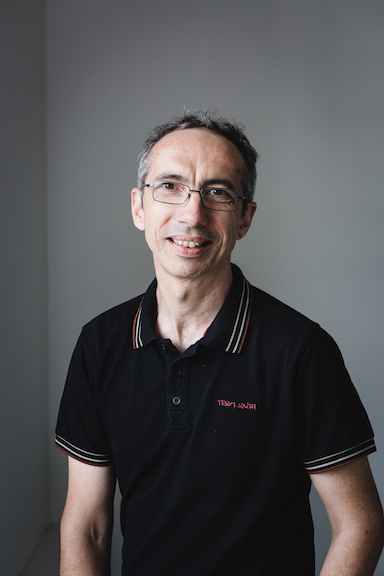 Daniel Le Berre Professeur des universités
Brève bio: premier et second cycle universitaire a l'Université de Bretagne Occidentable (UBO), Brest (Bretagne). Troisième cycle universitaire à l'Université Paul Sabatier, Toulouse III, Midi Pyrénées sous la direction de Michel Cayrol, à l'IRIT, équipe Raisonnement Plausible, Décision et Méthodes de Preuve. Thèse de doctorat intitulée Autour de SAT: le calcul d'impliquants P-restreints, algorithmes et applications soutenue le 12 janvier 2000. Assistant de recherche dans le laboratoire de recherche Business and Technology dirig&eacute par Mary-Anne Williams, à l'Université de Newcastle, Australie, de mars 2000 à août 2001. Maître de conférences à la faculté Jean Perrin depuis septembre 2001. Habilité à diriger les recherches depuis le 3 décembre 2010 (diapos). Professeur des universités depuis septembre 2013.
Coordonnées
CRIL-CNRS UMR 8188
Université d'Artois
Faculté des sciences Jean Perrin
Rue Jean Souvraz SP18
62307 Lens Cedex

Téléphone : +33 (0)3 21 79 17 88
leberre at cril dot fr

10 octobre 2018
Lauréat de la médaille de l'innovation 2018 du CNRS.
En savoir plus
.
Enseignement
Depuis la création du
Master Informatique parcours Ingénierie Logiciel pour l'Internet
, j'assure la majorité de mes enseignements en master, sur les thématiques du génie logiciel, de la programmation et conception orientée objet et la création d'applications d'entreprise en Java.
J'enseigne depuis la rentrée 2014 des enseignements en licence ou DUT :
Initiation Réseau (Licence 1)

TCP/IP

Réseaux locaux

Architecture Logicielle (DUT2)

Patrons de conception

Programmation évènementielle en Java (Swing)

Travail collaboratif (git)

Projet 2 (Licence 3)

POO

Tests fonctionnels

Travail collaboratif (git)
Recherche
Je m'intéresse a la résolution automatique de problèmes de décision et d'optimisation en logique propositionnelle.
Mes travaux se situent dans le cadre de l'Intelligence Artificielle, et plus particulièrement autour des thèmes suivants: SAT MAXSAT Optimisation Pseudo-Booléenne QBF Raisonnement non monotone Logiques modales
Je m'intéresse aussi à l'utilisation des solveurs de contraintes dans le cadre du génie logiciel.
Doctorants/PhD students
Projets/Grants
Comités/Committees
Menbre nommé

Membre de comité éditorial/editorial board member

Advisory Commitee

Technology Council
Présentations invitées / Invited talks
Comités de programme/Program committees
Solver competitions
De 2002 à 2011, j'ai participé à tous les évènements compétitifs sur SAT, soit comme co-organisateur (2002-2005, 2007, 2009 et 2011) soit comme expert (2006, 2008 et 2010). Pour plus d'informations, voir le site de la compétition SAT.
Je maintiens un site web dédié au problème SAT appelé/I maintain a web site dedicated to SAT called SAT Live!.
Publications
Vous pouvez accéder à la liste complète de mes/You can take a look at all my publications
DBLP
Google Scholar
Logiciels
Je m'attache à ce que mes travaux de recherche ou les projets de mes étudiants aboutissent sous la forme d'un logiciel, diffusé idéalement sous une licence libre afin d'en favoriser l'utilisation par des tiers.
La bibliothèque libre de satisfaction et d'optimisation en variables booléennes pour la machine virtuelle Java.
Découvrir Sat4j
Découvrez aussi les traducteurs CSP vers SAT développés par nos collègues de l'université de Kobe, livrés avec Sat4j.
Copris
Scarab
La gestion des dépendances correcte pour Linux, motorisée par Sat4j.
Découvrir p2cudf